Derek Moorhouse
I'm a digital matte painter, environment artist and motion graphics artist in Vancouver's VFX industry. In my former career, I was a lead senior designer and independent art director with 30+ years of commercial design and news experience working for a wide variety of clients, brands and broadcasters. I brought a wealth of practical knowledge and an expert skill set to every new project. Past projects include commercials, promotions, documentaries, television variety and news series.
In the last few years I have also returned to illustration work working in traditional pen/watercolour and digital formats. Building up a children's illustration portfolio and started writing manuscripts. Plus I joined the Society of Children's Book Writers and Illustrators (SCBWI).
Below is a selection of past film, tv and mix media projects I've worked on.
Environment Artist - Digital Matte Painter & Motion Graphics Designer
Feature Films
Jumanji: The Next Level (2019 Trailer) Sony Pictures Imageworks

Smallfoot (2018) Sony Pictures Imageworks

Spider-Man: Homecoming (2017) Digital Domain

The Fate of the Furious (2017) Digital Domain

Power Rangers (2017) Digital Domain

Beauty and the Beast (2017) Digital Domain

Free State of Jones (2016) Digital Domain

X-Men: Apocalypse (2016) Digital Domain

The Huntsman: Winter's War (2016) Digital Domain

Deadpool (2016) Digital Domain
Visual Effects Artist & Motion Graphics Designer
Documentaries
Aftermeth – Wunderman Film/Knowledge Network

Desperately Seeking Doctors – DreamFilms/CBC

Branded: Saving Our Town – Realize Entertainment

Queens of Diamonds – Mark Miller Productions/Global Television

Sara's Story – Infinity Films/Canwest
TV Series & Specials
Air Dogs – Mark Miller Production/Discovery Channel

TV Match Up – Golden Remote Productions/SecondSon/TVtropolis

Safe Children – Friday Communications/RCMP/BCTV/WIC

Randy Bachman: Every Song Tells a Story – Friday Communications/Canwest

The Jim Byrnes Show – CTV/Bravo

Show of Hearts Telethon – Friday Communications/Global
Corporate Branding & Promotion
ProShow Productions

The David Foster Foundation – Friday Communications

The LiteBook Company

Vancouver Marathon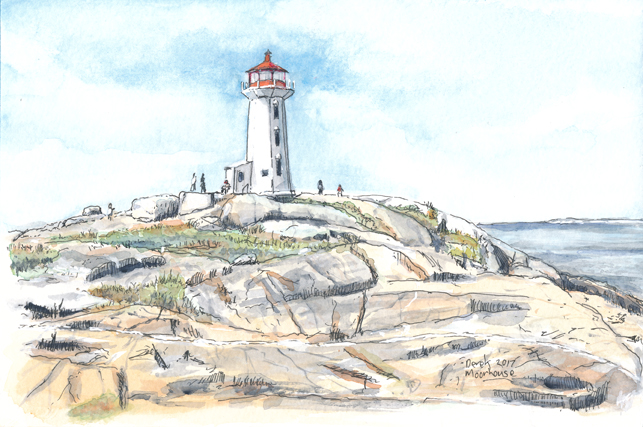 My original photograph of Peggy's Cove Lighthouse (NS), comp treatments, ink drawing, watercolour and vfx breakdown (below).